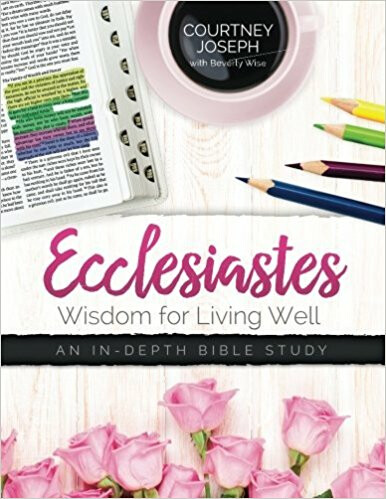 Ecclesiastes: Wisdom for Living Well
By: Courtney Joseph
Many of us have lives that are full. We have full bellies, full closets, full calendars, full trash cans, full purses and full email inboxes. But at the end of the day, we are empty. God made us all with a built-in desire to find the meaning to life and to spend time on things that are meaningful.
This in-depth Bible Study will take you verse by verse and chapter by chapter through the book of Ecclesiastes. We all long to live well and Ecclesiastes provides the wisdom we need to do just that! Join us on this journey as we identify the obstacles that stand in our way, and draw near to God through daily study of His Word.
This bi-weekly grouop will be led by Linda Thrasher on Tuesday evenings from 7-9pm at Linda's home (5 Buena Vista Lane, Denver). We will begin on February 13 and end on April 24. The book can be purchased on Amazon for $12.99. Sign up by emailing Linda at .